Hello Teltonika,
I would like to inform and report that newly released software RutOS 7.5 has very high CPU usage, even at idle rising up to 100% with Teltonika RUT240/241.
I'm not experiencing such thing as with 7.4 and 7.4.5 line software (usually I have steady 90% CPU usage display at Overview page).
Now I test RUT240 with firmware: RUT2_R_00.07.05_WEBUI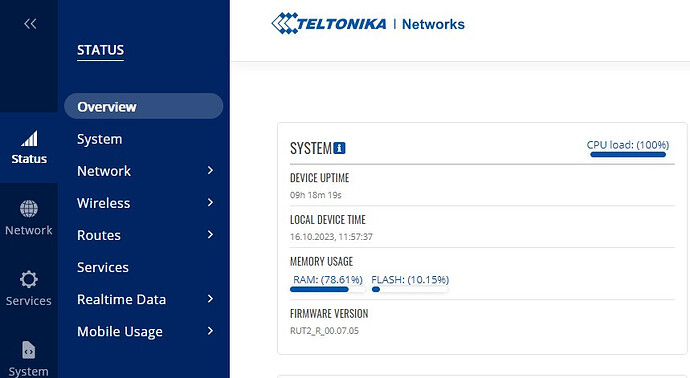 Its similar symptom as this thread: RUT240 High CPU and Memory
This behavior causes that I am very often (or even constantly) automatically logged out of WebUI, as I get many times even 98,5-100% CPU usage, sometimes it drops for a moment to 63-77.5% - device sits on idle, doing nothing.
Other behavior is that when I try to navigate and switch between tabs it hangs with "Loading" and I have to wait longer time to display anything or even accidently logging out of GUI, by itself.
There were moments, even at loging into device, it could not even build up welcome window and display correctly Overview page or doing it very slowly (especially view the usage of CPU parameter).
Basically, I have resetted device to factory settings and only configured simple 4G LTE SIM connection to my Povider.
I have not enabled any other CPU-consuming services, WiFi turned off - only remote access via SSH/HTTPS, nothing else.
I have checked out 'System->'Maintenance'->'Events Log' but here it doesn't show any possible reason what's the issue of logging out of WebGUI.
BTW offtopic: I'm surprised that no one was complaining yet at the Forum, as you guys have broken out and screwed up SSH when removing RSA-support for creating keys, I cannot any longer use the most popular on Windows SSH-Client "Putty" (no support for ECDSA signatures in PuTTY suite) to access RUT240 via CLI (below RutOS 7.4.3 it works great, but higher version not, which is frustrating) - now it refuses access to it via SSH (I use latest 0.79 - PuTTY Fatal Error: Server's host key is invalid - so it couldn't agree on host key algorithm). Now, I have to use other non-intuitive Clients, but it's not comfortable and convenient for me to install other Apps - like TerraTerm - only to get access to Teltonika's.
Anyway…besides only regretting and crying out loud, below I paste you verified CLI "top" command to view current usage of processes at RUT240.
There are moments when I see its rising up to almost 97-99% when it's refreshing data.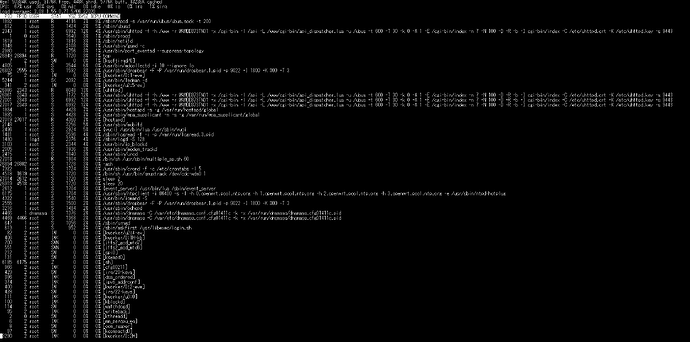 Any ideas or option to find source of the problem?
Or maybe newer software is too heavy and resource-consuming for RUT240 with newer features to handle it properly (too weak CPU, too short of RAM) ?