Hi,
@AndzejJ I need some advice. I struggle a lot with performance (speed and quantity of data). I like to share my current setup of my RUTX50 router. At this stage I have just 1 sim card but I am planning a second to improve the performance.
This is how I have setup my network. Its both used for business and pleasure: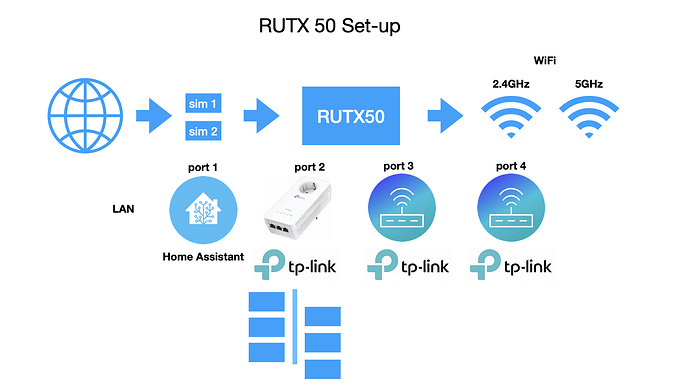 A short explanation:
Internet is provided via one ISP (SIM 1) (5G NSA, NAT).
I have WiFi on for both 2.4 and 5GHz
On LAN Port 1 I have a Rasberry Pi4 running Home Assistant managing home automation as well as some business automation.
On LAN Port 2 I have a Tp-Link base station for the Powerline network with 10 AP's
On Port 3 and 4 I have Tp-Link routers connected serving areas where the Powerline fails.
With exception of one router they are all configured under the same SSID and Password.
The wifi picks up about 10-11 clients.
The Powerline would handle 60-70 entities/clients.
The routers another 10 or so on a good day.
When I will start using a second Sim card what would make sense, Failover or Load Balancing and why?
In terms of performance what would be the best setup for the LAN configuration (currently static with DHCP server enabled, lease time 24hrs).
Can make MultiAP make a difference as well?