Hello Team,
I have a RUT955 running on Firwware v.RUT9_R_00.07.04.5 (the latest) that despite shows 4G LTE "connected"on the "Status" menu , is not able to be connected to internet. I would like to point out the router worked perfectly for weeks with the same configuration (nothing was changed ! ) , even if it was running on a lower version of firmware , then suddenly started to have this issue. The problem is not the Firmware since the same behavior was present with v.xxx-4.1.
The problem is not due to the roaming since I started to have this connectivity issue also in the places where I use to be connected without any problem.
What I did to try to fix tis connectivity issue :
1# firmware upgrade ( see above ) did not solve it
2# check again the settings (attached) , i.e. APN (apn.fastweb.it),WAN set to mobile ,auto APN off/on (now is off ,set to manual ) ,NAT enable ,tried to disable VoLTE in Network → Mobile → General;
Try to Lock service mode to LTE-only;• Try selecting a different band (e.g. B3) by navigating to Network → Mobile → General settings, selecting LTE-only mode, and only selecting B3, Tried the settings below (from other topics)
used everywhere as the APN
Tried to lock bands > B1, B3, B7, B40
Tried auto select ( it was working before ! )
Tried also NOT in roaming in the city where normally it was working , same issue.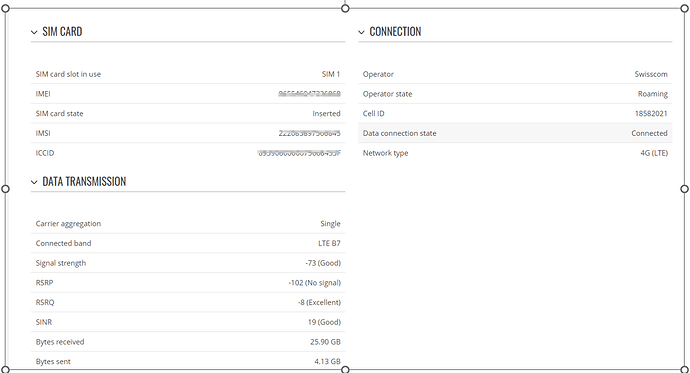 I have the troubleshooting log but it seems I do not have the right to upload it.
Many thanks in advance for any input you could provide.
Oscar