Hi,
I have a new RUT240 router, bought from digi-key in the US. I am in Denmark, attempting to use the router, but it does not seem to be able to connect to any mobile networks. I have tried 2 sim cards, with identical results.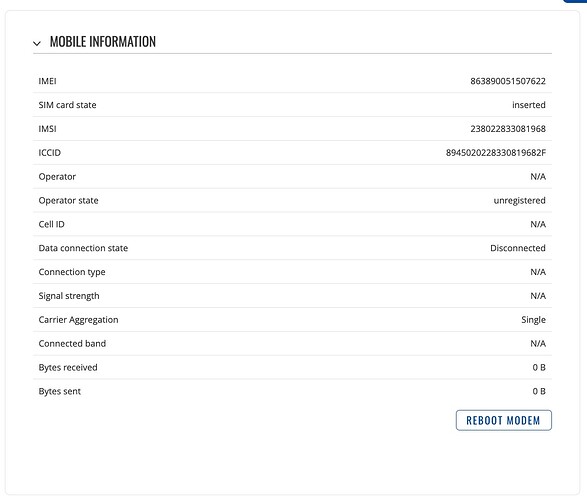 The modem doesn't appear to be able to find a network at all. When I do a scan for network operators, for instance, i get no results (empty list). I am in a city, with excellent network reception on my phone with the same sim cards.
I've tried everything I can think of (trying different Sim card setting, APN settings etc), but the modem simply never sees a network, whatever I do. The web UI never actually reports an error (problem with sim card etc) it just never seems to see a network.
In case anyone can help me - here's the start of the "GSM.log" file in the troubleshooting info :
[MODEM: "1-1" GSM INFORMATION]
connstate: Disconnected
netstate: unregistered
imei: 863890051507622
model: EC25-AF(D)
manuf: Quectel
serial: 863890051507622
revision: EC25AFFDR07A09M4G
imsi: 238022833081968
simstate: inserted
pinstate: READY
signal: N/A
cellid: N/A
operator: N/A
opernum: N/A
conntype: N/A
temp: 380
network: +QNWINFO: No Service
serving: +QENG: "servingcell","SEARCH"
neighbour: OK
band: N/A
software: EC25AFFDR07A09M4G
[MODEM: "1-1" GSMD AT commands]
ATI: Quectel
EC25-AF(D)
Revision: EC25AFFDR07A09M4G
AT+CGATT?: +CGATT: 0
AT+CGDCONT?: +CGDCONT: 1,"IP","Internet","0.0.0.0",0,0,0,0
+CGDCONT: 2,"IPV4V6","ims","0.0.0.0.0.0.0.0.0.0.0.0.0.0.0.0",0,0,0,0
+CGDCONT: 3,"IPV4V6","","0.0.0.0.0.0.0.0.0.0.0.0.0.0.0.0",0,0,0,1
AT+CGACT?: +CGACT: 1,0
+CGACT: 2,0
+CGACT: 3,0
AT+CGPADDR: +CGPADDR: 1,"0.0.0.0"
+CGPADDR: 2,"0.0.0.0,0.0.0.0.0.0.0.0.0.0.0.0.0.0.0.0"
+CGPADDR: 3,"0.0.0.0,0.0.0.0.0.0.0.0.0.0.0.0.0.0.0.0"
AT+CFUN?: +CFUN: 1
AT+QGMR: EC25AFFDR07A09M4G_01.004.01.004
AT+QCAINFO: ERROR
AT+CVERSION: VERSION: EC25AFFDR07A09M4G
Sep 3 2020 10:09:34
Authors: QCT
AT+QMBNCFG="list": +QMBNCFG: "List",0,1,1,"ROW_Generic_3GPP",0x05010820,201905141
+QMBNCFG: "List",1,0,0,"VoLTE-ATT",0x0501033C,202004261
+QMBNCFG: "List",2,0,0,"hVoLTE-Verizon",0x05010141,202004091
+QMBNCFG: "List",3,0,0,"Commercial-TMO_VoLTE",0x05010505,201811231
+QMBNCFG: "List",4,0,0,"Commercial-Rogers",0x05018821,201910231
AT+QPRTPARA=4: +QPRTPARA: 1,0,378,0,0,0,0,0,0,0,0,0,0,0,V1.2
AT+CREG?: +CREG: 2,0
AT+CGREG?: +CGREG: 2,0
AT+CEREG?: +CEREG: 0,0
AT+QPRTPARA=4: +QPRTPARA: 1,0,378,0,0,0,0,0,0,0,0,0,0,0,V1.2
AT+QCFG="nwscanmodeex": +QCFG: "nwscanmodeex",28
AT+QCFG="nwscanmode": +QCFG: "nwscanmode",0
AT+QCFG="nwscanseq": +QCFG: "nwscanseq",0403010502
AT+QCFG="dbgctl": ERROR
AT+QCFG="band": +QCFG: "band",0x26f,0x42000000000000381a,0x0
and here are the sections of the GSM log that seem to have errors :
ERROR
Tue Oct 10 01:17:43 2023 daemon.info gsmd[2768]: |
Tue Oct 10 01:17:43 2023 daemon.info gsmd[2768]: gsmd[parse_response():1115]: modem|1-1|, line: |ERROR|
Tue Oct 10 01:17:43 2023 daemon.info gsmd[2768]: gsmd[find_modem_vidpid_by_id():743]: modem: 1-1, vidpid: 2c7c:0125
Tue Oct 10 01:17:43 2023 daemon.info gsmd[2768]: gsmd[send_ubus_message():446]: send_ubus_message*** SEND_REPLY: {"vidpid":"2c7c:0125"}
Tue Oct 10 01:17:43 2023 daemon.info gsmd[2768]: gsmd[prepare_write_to_serial_request():405]: New request for 1-1 modem
Tue Oct 10 01:17:43 2023 daemon.info gsmd[2768]: gsmd[prepare_write_to_serial_request():420]: Prepared cmd |AT+QSPN| (7) for modem 1-1
Tue Oct 10 01:17:43 2023 daemon.info gsmd[2768]: gsmd[dispatch_work():1010]: Dispatcher is running on 1-1 modem
Tue Oct 10 01:17:43 2023 daemon.info gsmd[2768]: gsmd[dispatch_work():1011]: request->request: |AT+QSPN|(7)
Tue Oct 10 01:17:43 2023 daemon.info gsmd[2768]: gsmd[write_to_serial():564]: 0x4193E0 modem->ufd.fd 12, modem: 1-1, write[7]:AT+QSPN
Tue Oct 10 01:17:43 2023 daemon.info gsmd[2768]: gsmd[serial_handle_data():1234]: Modem 1-1 found 0x4193E0
Tue Oct 10 01:17:43 2023 daemon.info gsmd[2768]: gsmd[serial_handle_data():1285]: Modem 1-1 pending_rsp: |(null)|
Tue Oct 10 01:17:43 2023 daemon.info gsmd[2768]: gsmd[parse_response():1106]: modem|1-1|, modem->pending_request: |AT+QSPN|, modem->pending_rsp: |
Tue Oct 10 01:17:43 2023 daemon.info gsmd[2768]: ERROR
Tue Oct 10 01:17:43 2023 daemon.info gsmd[2768]: |
Tue Oct 10 01:17:43 2023 daemon.info gsmd[2768]: gsmd[parse_response():1115]: modem|1-1|, line: |ERROR|
Tue Oct 10 01:17:43 2023 daemon.info gsmd[2768]: gsmd[find_modem_vidpid_by_id():743]: modem: 1-1, vidpid: 2c7c:0125
Tue Oct 10 01:17:43 2023 daemon.info gsmd[2768]: gsmd[send_ubus_message():446]: send_ubus_message*** SEND_REPLY: {"vidpid":"2c7c:0125"}
Tue Oct 10 01:17:43 2023 daemon.info gsmd[2768]: gsmd[prepare_write_to_serial_request():405]: New request for 1-1 modem
Tue Oct 10 01:17:43 2023 daemon.info gsmd[2768]: gsmd[prepare_write_to_serial_request():420]: Prepared cmd |AT+QNWINFO| (10) for modem 1-1
Tue Oct 10 01:17:43 2023 daemon.info gsmd[2768]: gsmd[dispatch_work():1010]: Dispatcher is running on 1-1 modem
Tue Oct 10 01:17:43 2023 daemon.info gsmd[2768]: gsmd[dispatch_work():1011]: request->request: |AT+QNWINFO|(10)
Tue Oct 10 01:17:43 2023 daemon.info gsmd[2768]: gsmd[write_to_serial():564]: 0x4193E0 modem->ufd.fd 12, modem: 1-1, write[10]:AT+QNWINFO
Tue Oct 10 01:17:43 2023 daemon.info gsmd[2768]: gsmd[serial_handle_data():1234]: Modem 1-1 found 0x4193E0
Tue Oct 10 01:17:43 2023 daemon.info gsmd[2768]: gsmd[serial_handle_data():1285]: Modem 1-1 pending_rsp: |(null)|
Tue Oct 10 01:17:43 2023 daemon.info gsmd[2768]: gsmd[parse_response():1106]: modem|1-1|, modem->pending_request: |AT+QNWINFO|, modem->pending_rsp: |
Tue Oct 10 01:17:43 2023 daemon.info gsmd[2768]: +QNWINFO: No Service
ue Oct 10 01:17:47 2023 daemon.info gsmd[2768]: ERROR
Tue Oct 10 01:17:47 2023 daemon.info gsmd[2768]: |
Tue Oct 10 01:17:47 2023 daemon.info gsmd[2768]: gsmd[parse_response():1115]: modem|1-1|, line: |ERROR|
Tue Oct 10 01:17:47 2023 daemon.info gsmd[2768]: gsmd[find_modem_vidpid_by_id():743]: modem: 1-1, vidpid: 2c7c:0125
Tue Oct 10 01:17:47 2023 daemon.info gsmd[2768]: gsmd[send_ubus_message():446]: send_ubus_message*** SEND_REPLY: {"vidpid":"2c7c:0125"}
Tue Oct 10 01:17:47 2023 daemon.info gsmd[2768]: gsmd[prepare_write_to_serial_request():405]: New request for 1-1 modem
Tue Oct 10 01:17:47 2023 daemon.info gsmd[2768]: gsmd[prepare_write_to_serial_request():420]: Prepared cmd |AT+QCFG="band"| (14) for modem 1-1
Tue Oct 10 01:17:47 2023 daemon.info gsmd[2768]: gsmd[dispatch_work():1010]: Dispatcher is running on 1-1 modem
Tue Oct 10 01:17:47 2023 daemon.info gsmd[2768]: gsmd[dispatch_work():1011]: request->request: |AT+QCFG="band"|(14)
Tue Oct 10 01:17:47 2023 daemon.info gsmd[2768]: gsmd[write_to_serial():564]: 0x4193E0 modem->ufd.fd 12, modem: 1-1, write[14]:AT+QCFG="band"
Tue Oct 10 01:17:47 2023 daemon.info gsmd[2768]: gsmd[serial_handle_data():1234]: Modem 1-1 found 0x4193E0
Tue Oct 10 01:17:47 2023 daemon.info gsmd[2768]: gsmd[serial_handle_data():1285]: Modem 1-1 pending_rsp: |(null)|
Tue Oct 10 01:17:47 2023 daemon.info gsmd[2768]: gsmd[parse_response():1106]: modem|1-1|, modem->pending_request: |AT+QCFG="band"|, modem->pending_rsp: |
Tue Oct 10 01:17:47 2023 daemon.info gsmd[2768]: +QCFG: "band",0x26f,0x42000000000000381a,0x0
thanks,
Josh