Hello, I'm having a weird issue with a RUT240 (latest firmware) running in passthrough mode. It appears that whenever there is not a continuous stream of traffic (UDP and/or TCP - not sure what the trigger is), that it'll start dropping about 60% of ICMP packets, possibly other protocol traffic. It's almost like some kind of energy saving kicks in and the cellular modem and/or LAN interface start sporadically dropping traffic until a continuous stream is detected…
I'm encountering this issue specifically when using the device as a backup internet connection for my Ubiquiti USG-Pro firewall (not sure whether this affects other firewalls/routers). I have a static public IP from the cellular provider, and the RUT is in passthrough mode so it assigns the public IP to the USG router's WAN 2 interface (no issue with this). When the router is operating in failover mode and all traffic is going through the RUT240 then there's no issue. When I have a laptop directly connected to the RUT240 there's no issue. However, when I have the RUT240 connected to the USG router and the USG is not in failover mode (all traffic going through WAN 1) that's when I see the issue both on inbound and outbound ICMP traffic. This is very problematic as the USG needs reliable outbound ICMP communication to determine whether or not the backup connection is more stable than the primary before failover, and we rely on inbound ICMP traffic via 3rd party service to alert us if a WAN service is degraded or down.
Note that I don't see this behavior at all when using the Netgear LB1120 nor Netgear LM1200 cellular modems in the exact same setup.
The below 2 screenshots are from our 3rd party connection monitoring service called VoIP Spear.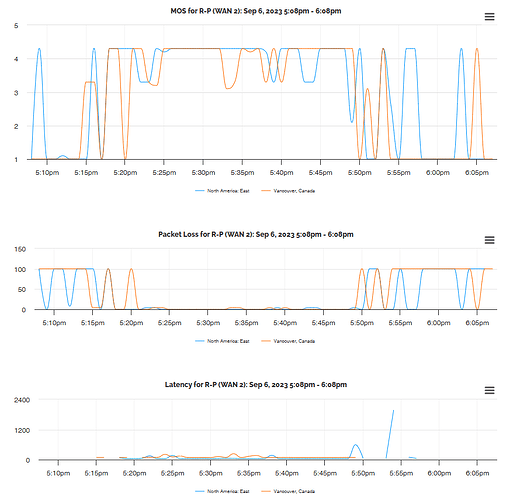 In this first screenshot the router is in standard (not failover) mode the entire time. At 5:30pm I noticed that the connection was bad (heavy packet loss) so I started pinging the static public IP from a few difference sources, checked the device's status via web and CLI and you can see that for the ~20 minutes I was running a bunch of tests and traffic through the device that the issue is all but gone, and then almost as soon as I stop all of the tests it starts heavily dropping ICMP traffic again.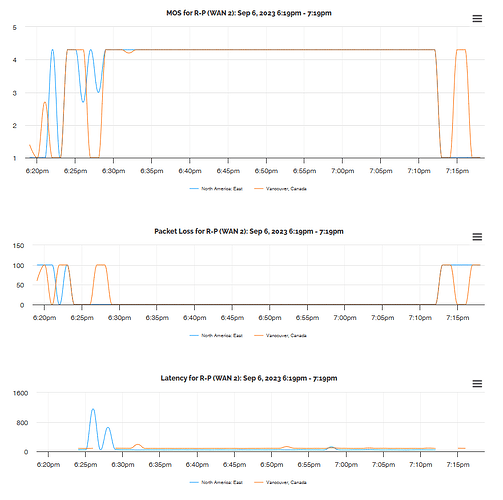 In the second screenshot you can see the issue until about 6:30pm when I disconnected the primary (WAN 1) service and the router failed over to WAN 2 (RUT240). For forty minutes, while all network/internet traffic flows through the RUT240 there's no issue with inbound/outbound ICMP traffic. And then at 7:10pm I reconnected WAN 1 service, router failsback to WAN 1, we see the issue resume.
Again, because this behavior is not observed at all with other cellular modems, it leads me to believe that there's some kind of energy saving feature(s) on the RUT240 that causes it to drop ICMP (possibly other) traffic when there's little to no activity/connections… Or some kind of bug causing this behavior.