Hi Team,
I tried to pair my TeltoCharge EVC1200P4011 with smartphones (iOS and Android devices) but I can not pair to charger with any smartphone.The charger is in standby mode with default settings(Yellow pulsing LED's).
*Teltonica Energy app version : 1.10.0
That's my list what I did ;
Try to pair with iPhone 11 (iOS version : 17.1) but issue persist
Reboot EVcharger but issue persist
Try to pair with Samsung SM-A52F (Android version :13) but still persist
After error notification, forgot EVcharger on Smartphones and try pair again but issue persist.
The error notification :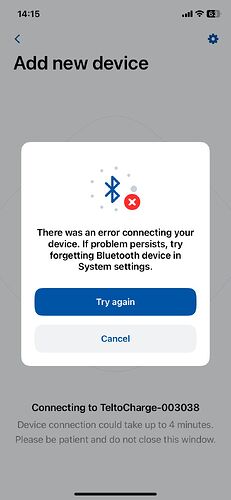 Soo, how can I pair to charger and what should I do?
Thanks