We have a RUT955 that works fine after reboot but within 24h it starts responding with:
RunCmd: gsmctl --sms --send "TheNumber MyMessage"
Sms send failed. Error: [gsmctl_send_sms:20] error: ERROR: Request timed out
Checking System log it states "request reached timeout".
Internal website is very slow at certain pages like Mobile Utilities and Download Logs.
Testing to send message also very slow but returns "Message sent". Logs states "request reached timeout" but only some are actual sent but with a long delay (several minutes later).
Some screenshots on current status when acting bad included.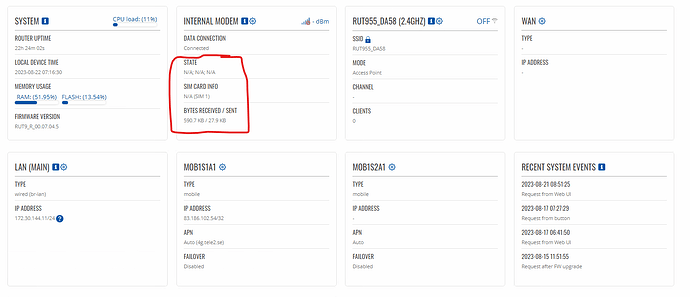 Reboot solves the problem.
| Firmware version | RUT9_R_00.07.04.5 |
| --- | --- |
| Firmware build date | 2023-07-24 12:41:40 |
| Internal modem firmware version | EC25EUGAR06A06M4G_01.005.01.005 |
| Kernel version | 5.4.229 |
System log section:
Tue Aug 22 05:55:05 2023 daemon.notice netifd: mob1s1a1_4 (7710): udhcpc: broadcasting renew
Tue Aug 22 05:55:05 2023 daemon.notice netifd: mob1s1a1_4 (7710): udhcpc: lease of 83.186.102.54 obtained from 83.186.102.53, lease time 7200
Tue Aug 22 06:08:24 2023 authpriv.info dropbear[6384]: Child connection from 172.30.144.10:52936
Tue Aug 22 06:08:25 2023 authpriv.notice dropbear[6384]: Password auth succeeded for 'root' from 172.30.144.10:52936
Tue Aug 22 06:08:25 2023 kern.notice Password auth succeeded for root from 172.30.144.10:52936
Tue Aug 22 06:08:25 2023 authpriv.info dropbear[6384]: Exit (root) from <172.30.144.10:52936>: Disconnect received
Tue Aug 22 06:08:26 2023 daemon.info gsmd[2215]: [check_req_timeout:104] error: [MODEM_MANAGER] Warning: request reached timeout (126s) on 1-1.4 [2c7c:0125] modem!
Tue Aug 22 06:10:30 2023 authpriv.info dropbear[6721]: Child connection from 172.30.144.10:52959
Tue Aug 22 06:10:30 2023 authpriv.notice dropbear[6721]: Password auth succeeded for 'root' from 172.30.144.10:52959