Hello,
I am trying to connect a TRB245 modem to an OPC UA server configured with PC WORX UA Configurator. I am having difficulty getting the modem to recognise the server at all.
The URL created by the PC WORX configurator is created automatically based on the desktop's name.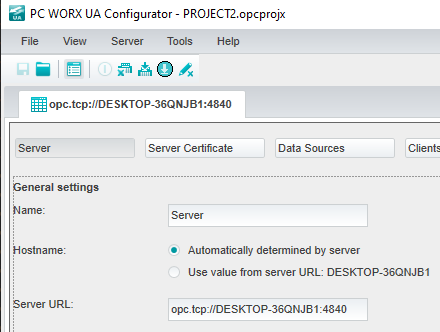 When I put this into the URL field of the TRB245 OPC connection settings, it says that it is not a valid URL type with error message "A full url address is accepted"
The example on the website has a URL that is formatted differently, and looks like:
opc.tcp://192.168.x.x:4840. But I am unable to change the format of the URL in PC WORX.
The modem is connected to the same local network as the PC (as well as a PLC hosting the data that I am trying to access via OPC).
Any advice would be appreciated. Happy to provide more information on the setup if it would help/