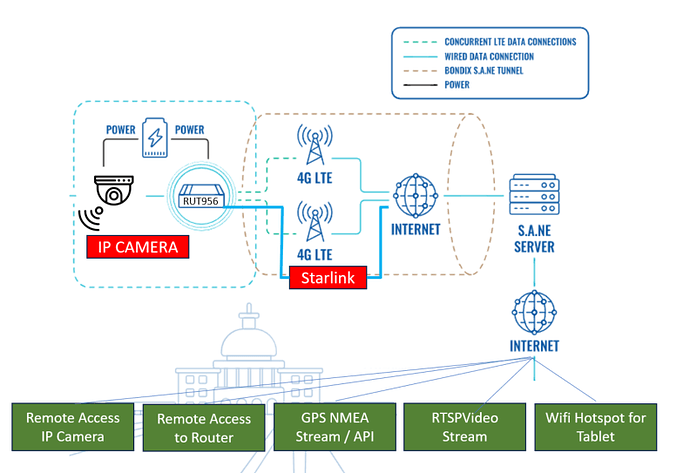 Dear Community,
I am planning to build a light weight IRL Streaming Setup, to stream from a driving car (see picture above). Since I am planning to stream from different cars (partially oldtimers without USB plugs), ideally the setup runs from a powerbank, so that it is fully flexible to change quickly from one to another car.
I plan to use a Pan-Tilt-Zoom IP Camera that streams via RTSP protocol.
Like this, another person can remotely control the camera and manage the youtube stream, while I am driving.
In addition, I would like to bond 3 different connections (2x Sim Card, 1 x Starlink) for maximum streaming quality / stability.
After a lot of research, I found that the RUT956 router offers the perfect basis for this setup, because:
I can directly connect the IP PTZ camera via LAN port
I can connect 2x4G sim cards from different providers
I can connect Starlink via WAN
I can bond all 3 connections via SANE
The router and all connections can be controlled remotely
In addition, the RUT956 has embedded GPS, so I could create an NMEA feed (esp. Speed, Lat/Lon, Altitude, Heading)
In theory, the setup should work.
However, I have some questions and hope that you are able to help me out:
1. Sim Card with shared public IP addresses:
I think, most mobile providers only offer shared public IP addresses for normal sim cards (non B2B-contract) - not sure how it is with starlink though.
Question: "Is it possible to remotely access the IP cameras RTSP stream & WebUI via browser while using S.A.NE and on shared IP addresses from the mobile provider?"
By default the IP camera will stream to something like "rtsp://192.168.X.X". However, this is the local address. In order to access it remotely, I need a DDNS setup, which, if I am not mistaken, only works with a public IP-address, right?
Anybody has found a work around for this?
2. Remotely Access the router:
Is it possible to remotely access the RUT956 router via DDNS while using S.A.NE with 2 shared IP sim cards?
3. Access altitude data from the RUT956 GPS module:
When I check the GPS data in the admin WebUI of Teltonika, I can only find LAT / LON / Speed.
I cannot find altitude. Anybody knows how to access the altitude data and how to access the live data via a feed / stream / API to be able to create a stream overlay?
Thanks a lot for your support.
Best regards!