Hello,
I'm doing some first test with the FMM920 I recently bought.
I've configured it for the use with the NB-IOT network.
The simmcard I've inserted is specially bought for this use
The device has found his position.
With the settings described below here, it is not sending any data.
I hope there is somebody can tell me what possible causes can be?
I've inserted the simmcard and there seems to be a good connection when I look at the status page from the Teltonika configurator.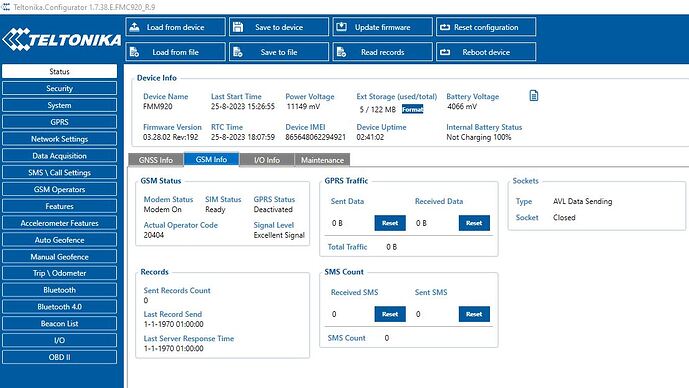 The only thing that triggered my attention is the GPRS status being deactivated . Since NB-IOT uses 3,4 and 5G this seems logic, GPRS is 2G.
The device must send its data to a public requestbin with a HTTPS URL: 'https://enamplb2hoa1.x.pipedream.net. I've set this in the GPRS settings'
For the test I've set Data Aquisition on stop to every 60 seconds.
I've set networksettings to NB-IOT
I hope somebody can put me on the track, what can be the cause the device does not do any attempts to send data with these settings.
Greetings
Peter Dorsman