There is some guidance on the wiki site about how to connect a FMB140 device to AWS IoT Core (FMB140 Getting Started with AWS IoT Core - Wiki Knowledge Base | Teltonika GPS).
I have a FMC920, and the steps in the guide is applicable on the FMC920 device as well.
However, in the device configuration, there is an option named "Aws IoT Shadow" for which i can't find any documentation on.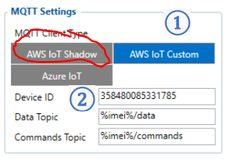 What is the difference between the "AWS IoT Shadow" and "AWS IoT Custom"? One difference is that there isn't needed to input datatopic/commandTopic in the "AWS IoT Shadow" option.
What i also wonder is if there is any way to utilize the "shadow" functionality to manage settings on the device?
The documentation explains how to send a "CMD" MQTT packet to the device. One option is to set this packet as retained. - But it would have been nice if the desired/reported functionality in the shadow could be used to apply settings based on different ID:s in the device.